I'm so glad alternative musicians finally got the point and dropped their outdated ethics/values.  There's absolutely nothing wrong with selling your music to giant corps that exploit workers in Asia!  It's not our fault they are so damn poor.  Thank god we're finally moving forward with things.  Good job, guys!
This is a review of the latest alt music I've encountered in the "mainstream world."
1) HERCULES & LOVE AFFAIR - 'Blind'
 Location: THE GAP
When I first started working at Old Navy, I didn't realize they also manage The Gap.  I couldn't believe it!  My employee disc. can be used to purchase hi-qual khaki's/chambray tops?  Sign me up.
Last week I went with my buddy to get some new gear.  I was pleasantly suprised when I heard Hercules & Love Affair's 'Blind' being played as I tried on some v-necks.
2) PAVEMENT - 'Cut Your Hair'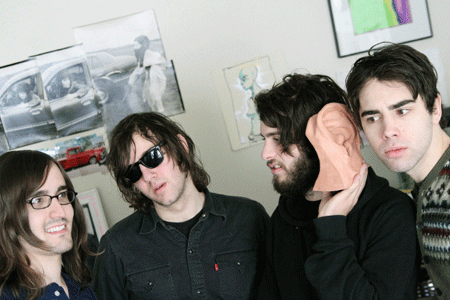 (pavement circa '89)
 Location: AMERICA'S FUNNIEST HOME VIDEOS (AFV)
I love bloopers, guys.
After a long day at Old Navy, I like to unwind at home, crack a 'cold one', and watch some cool videos on TV.  It was awesome to hear Pavement's 'Cut Your Hair' as the soundtrack to a hair-cutting montage!  Seriously, what other song would you use???
3) The Shins - 'some song from an album'
(type-A alt bodies)
Location:  NORDSTROM
I usually visit Nordstrom's mini-store called "The Rail" because they carry the clothes I like.  I can find cool jeans that fit really well :)  I was in the fitting room when I heard The Shins blasting!
4) THE VIVIAN GIRLS - 'So Bored (cover of The Waves Band)'
(image from MySpace.com/thevivianchix)
Location:  BROOKS BROTHERS
I was just picking up some new polos when I heard this song!  So happy right now :)